Location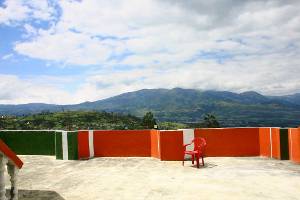 Barrio Rancho Chico is an area of the small indigenous village of Ilumàn, located in stunning mountain scenery between Volcàns Imbabura (4610m), and Cotoacachi (4940m) in Ecuador's northern highlands.

Quito is 2 hours south by bus ($2) from Otavalo. Ilumàn is 6km from Otavalo, which is approximately:

45 minutes to walk,

15 minutes (18c) by bus. Buses frequently stop directly outside the house.

Under 10 minutes ($3) in a taxi.
The Room
Alejandro & Esthela offer a reasonable priced homestay opportunity in their 5 storey family house in
Ilumàn
. The lockable room, which has a double and a single bed, is on top floor of the house. The 10m x 7m front balcony boasts
breathtaking views
of Cotacachi. The upper roof balcony enjoys uninterrupted views of Imbabura (gallery). Although only one room is available at the moment, another much larger room is being converted.
Why Ilumàn?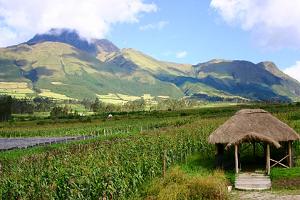 •
amazing scenery
•
easy hiking opportunities
• access for mountain climbs
• language practising opportunity
• tranquil traditional indigenous village
•
photography opportunities
•
easy access to Otavalo and Quito
• shamans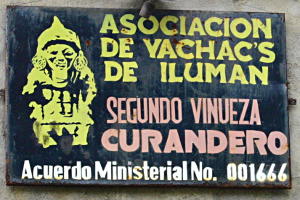 Shamans
Unlike other local villages,
Ilumàn
is famous for its shamans. The local shamans association has over 100 shamans, who advertise with signs on their houses. As Alejandro has lived here for over 15 years, he is able to make recommendations and introductions. He organizes cultural events such as traditional dances and shamanic demonstrations in a specially built shaman's hut in the back garden.
For more pictures from the house and surrounding area please see the
gallery
.
Photography and content by Clare Anderson ©
clareanderson.org
. HTML by Mark P. All rights reserved.